Continuing Real Estate Education
New York Real Estate Education | NYC Title Insurance
Statewide Abstract Corporation is always looking for ways to strengthen connections between financial institutions, law firms, developers and real estate professionals. Providing title insurance to the real estate industry for 35 years, they are one of the most prominent title insurance companies in New York City.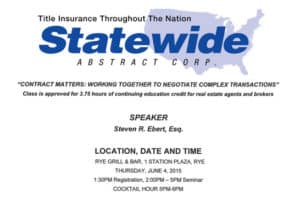 Statewide Abstract often provides ongoing education with their seminars, and another one is coming up on June 4th.
This Continuing Real Estate Education Seminar is free to licensed real estate professionals, and is called "Contract Matters: Working Together To Negotiate Complex Transactions". Attendees will learn several valuable skills to improve their business relationships, presented by attorneys Steven R. Ebert, Esq. and Ebert Lontok, LLC. The seminar is scheduled from 2 until 5 PM on June 4th at the Rye Bar and Grill, 1 Station Plaza, Rye, NY. Registration and check in is at 1:30. A cocktail hour with food and drinks will follow from 5 until 6 PM, and there will be a giveaway. The seminar is free of charge.
Participants may register via fax at 212-290-1717, or via email to manastos@statewidea.com. Please register by May 22nd as seating is limited. This course offers 3.5 continuing education credit hours for Realtors, but please note, the seminar must be attended in full because credit will not be given for partial attendance. "Contract Matters: Working Together To Negotiate Complex Transactions", another continuing education seminar presented by Statewide Abstract, will take place June 4, 2015, and all real estate professionals are cordially invited to attend.